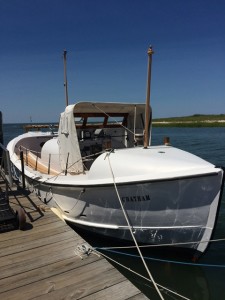 In a world where huge container ships, aircraft carriers, and cruise ships often exceed 1,000 feet in length, it's hard to even comprehend battling a stormy ocean and massive waves in wooden vessels that were barely 50 feet long. Yet many of the fishing vessels I wrote about in my book, At the Point of a Cutlass — fishing boats that sailed in practically every month of the year from New England to the Canadian coast — were only 50 or 60 feet in length. The wooden sloop sailed in 1820 by Nathaniel Palmer from Stonington, Connecticut all the way to the bottom of South America, to just below the Antarctic Circle, was less than 50 feet long. Shipwrecks were common, and it's a wonder many of these vessels survived.
On Cape Cod this summer, I had the chance to see one of the smallest vessels to battle a furious sea, now on display at Rock Harbor in Orleans, Massachusetts. The wooden lifeboat is just 36 feet long and played a critical role in the rescue of nearly three dozen men during a 1952 winter storm that split a cargo ship in half. The lifeboat, known as CG 36500, is featured in the book The Finest Hours by by Michael Tougias and Casey Sherman, as well as the movie released this summer.


In the middle of the night on February 18, 1952, four Coast Guardsmen pushed CG 36500 over huge, rolling waves that towered above the little lifeboat in order to reach survivors waiting on their broken and sinking ship. Even as the lifeboat was battered by waves and swamped with seawater, the men continued further out to sea towards the ship. Hours later, the exhausted crew and survivors arrived back in Chatham.
– – – – – –
I'll be speaking at the Old North Church in Boston this month about my book At the Point of a Cutlass and the many surprising connections between Atlantic piracy and colonial Boston. For details, click here.